We cannot stress enough the importance of marketing consultation to put your rehab marketing plan into action. This is one of the two major parts of working with a marketing agency like ours. When it comes to planning, we understand that different levels require specific resources and actions. At Reputation Rehab, we understand that each facility is different, therefore, our marketing consulting strategies will be effective for your specific needs! 
Marketing 
Even though there are various marketing reasons, the essential goal for all is to reach out to more patients through effective online presence on social media and search. The four most important factors in marketing that mental health facilities should focus on are: 
Marketing plans:

Generally, in a marketing plan, we will first gather ideas. Then, we will analyze previous clients' plans to evaluate the similarities and differences. Our team at Reputation Rehab believes that learning from previous clients who came before you is an essential part of progressing forward and avoiding future problems. Next, we will conduct a digital marketing analysis and craft your plan!  
Social media marketing

: Using social media platforms such as Instagram, Facebook, Twitter and more to market your drug rehabilitation involves

publishing great content on your social media profiles, listening to and engaging your followers, analyzing your results, and running social media advertisements. Mental health experts should consider working with our team at Reputation Rehab because it is one of the effective ways to directly communicate and learn about your patients. 
SEO and search engine marketing

: Managing traffic to your rehabilitation website is another important factor in marketing your mental health practice. Not only that there is a lot of traffic out there for you to manage, but there is also very specific and high intent traffic that you need digital marketing experts like our team at Reputation Rehab to control. For example, search engines such as Google determine relevant pages by reviewing the content and evaluating (algorithmically) whether that content is relevant to what the searcher is looking for, mostly based on the keywords it contains. Therefore, it is important that you work with SEO experts to choose the appropriate keyword strategies and rank your SEO and website to top result pages.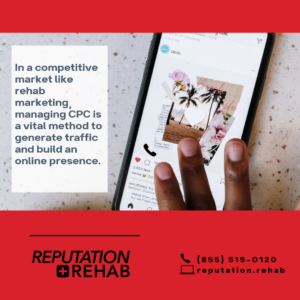 CPC and Ad Advertising

: CPC stands for Cost-per-click and it is the price that you pay for each click that you make on your marketing campaign. Mental health workers should consider marketing CPC on Google Ads to maximize their quality score and ranking. In a competitive market like rehab marketing, managing CPC is a vital method to generate traffic and build an online presence. Don't worry, we can help! 
Let's Talk Marketing
Each type of marketing has its own advantages and disadvantages. So, it is important that you do marketing consulting and find one or two that work the best for you and your rehabilitation objectives. It can be overwhelming to start because there are many options. Worry not! We are ready to guide you from start to finish. Please feel free to call us at (855) 519-0120 or visit https://reputation.rehab/mental-health-marketing/ for more information. Let's talk marketing!