Content is a general word that largely encompasses a range of matters that are used to promote your products and services. In relation to rehab marketing, creating content should be prioritized as it influences other digital marketing steps, such as web development and blog management. Therefore, rehabilitation centers should focus on pushing out innovative and resourceful content that both educates and engages with patients. You would need experts who are skilled in both the fields of mental health and digital marketing. Look no further! Reputation Rehab has all the right content development resources for you! 
Content that Educates 
One of the important starting steps that drug treatment and rehabilitation centers should take is to start the conversation of mental health and addiction. It is important that rehabilitation centers can destigmatize addiction and mental health disorders because patients are more likely to feel empowered to gain control and seek the right help. Negative attitudes and internal shame should not be discriminated against and penalized. As our society gains more education about mental health, we must progress towards being comfortable in talking openly about it, encourage equality between physical and mental illness, choose empowerment over shame and be honest. This is one of the key educational content that we, Reputation Rehab, will help you achieve right content development! 
Content that Informs 
Using today's new inventions of digital marketing technology and social media, mental health resources and addiction treatment can be accessed by people from across the world. This is highly informative and revolutionary because mental health and rehabilitation facilities grow more flexible and creative with their resources. Therefore, it is important that rehabilitation centers can take advantage of new technologies and adjust their content to the new updates. An example of this is online therapy. The nature of online therapy eliminates many physical barriers that are inconvenient for most people. This is adaptive because more patients can get the same help because it is now more accessible. With the right content development team, your mental health centers can trust us to help you stay on top of technological change!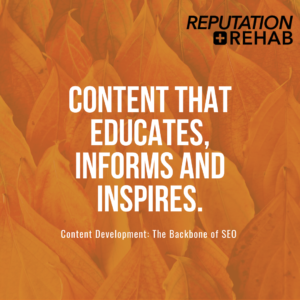 Content that Inspires 
What makes content inspiring? At Reputation Rehab, we believe that inspiring content is those that motivate the audience and readers to take proactive steps toward recovery. It is simply not enough to lay out a handful of resources. Rehabilitation must consider giving patients incentives to act. Whether it is a link to your website, adding a phone number to your facility, or any form of information that allows your readers to contact you. Call for action content will likely motivate potential customers and patients to reach out to you.
Reach out to Content Development Experts Today
At Reputation Rehab, we are confident that we have all the right resources to craft the most appropriate and professional content for you and your unique patients. For more information, please call (855) 519-0120 or visit https://reputation.rehab/content-development/.