To make a lasting impact or impression with mental health marketing, there must be three goals in the plan: attract, convert and retain. Attract means targeting the right patients in both local and other areas with the right SEO, paid advertising and many other advertising funnels that are designed to get our mental health practices to the forefront. Next, convert means getting your potential patients to reach out, learn, and use your service. Lastly, retain refers to maintaining the engagement between you and your clients and building long-term relationships. When you work with us, our rehab marketing experts will make sure that those three goals are achieved and more! Below is a list of digital marketing tools that are necessary to start mental health marketing. 
Mental Health Web Design 
Successful website designs inform, educate, and speak to your patients. Not only that your website should be easier for your existing and prospective patients to navigate, but it should encourage them to book appointments and reach out. By integrating your site with Google Analytics, we can make sure that your site is driving all of the traffic it should. As a result, it will be easier for you to generate leads. This is evident in our extensive work HMOs and PPOs, which shows our reputation. At this point you may wonder: What can we add to your website? Well, a few factors we can do include checking matrix, conversion tracking, blog integrating, WordPress and more. Furthermore, your website design will be personally tailored and customized by us to fit the purpose of your mental health facility, instead of giving you an unoriginal template. If you are interested in learning more about how we operate mental health website design here, feel free to contact us. 
Reputation Management for Mental Health Facilities 
We cannot talk about reputation management without mentioning patients' reviews. From our experience, it is shown that new patient reviews have become one of the most important parts of successful mental health marketing services. This is because 80% of patients read reviews before booking an appointment and patient reviews are one of the top 3 factors to ranking high in local search results. Therefore, trust us to comprehend an effective mental health marketing plan that speaks to your patients. 
SEO for Mental Health Professionals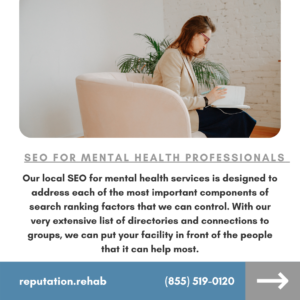 Did you know that half of the website traffic from all searches goes straight to the three results at the top? So, it is crucial for you to rank as high as possible. To do that, you need to implement a research-backed mental health SEO program to improve your local search rankings. This is when we come in! Our local SEO for mental health services is designed to address each of the most important components of search ranking factors that we can control. With our very extensive list of directories and connections to groups, we can put your facility in front of the people that it can help most. We can handle all of the above on our end. All you have to do is focus on running your facility. Trust us to do the mental health marketing work for you from start to finish!