Social media marketing services have become an integral part of social strategy for many rehab facilities across industries. More specifically, new strategies within social media marketing are constantly diversifying because of the rapid technological advancements. Therefore, it is important to grasp the effectiveness of each social media platform. Each social advertising platform has its unique way of reaching patients, and each has advantages. As a result, drug treatment centers in the rehab industry can benefit from the use of social advertising to engage, inform, and convert their specific patients. Let's break them down!   
Facebook Advertising Services 
Facebook PPC management services offer advanced targeting options and diverse ad types for your rehabs. Facebook is a great platform to do your ads because it has a large audience of over two billion users monthly. When you create a Facebook ad, there is a list of questions that you should address: 
What's your objective? 

Who is your audience?  

Where do you want to run your ads? 

What is your ad budget? 

What is the ad format? 

Place your order. 

Manage and maintain your ad. 
Above are just the a few of the important key factors to use your Facebook ads to
increase traffic and generate leads to your facility. The list goes on but worry not! At Reputation Rehab, our team of social media marketing experts can run your ad campaign with any budget.
Instagram Advertising Services 
Your Instagram ads are dependent on several factors: locations, interests, demographics, behaviors, and more. These play a crucial part in narrowing our digital advertising efforts to fit the exact patients you want to reach. Therefore, we will give you a brief guide on how to get started with creating an online presence for your rehab treatment center. 
Rehab treatment profile

: A brief introduction to your facility that provides key information about your services to your patients. 

Superior visual

: High-quality and persuasive photos and videos will reach your patients with the highest level of success. Since Instagram is a visual-based platform, this is a crucial requirement for a successful marketing campaign on this platform.

Ad sizing and copy

: Engaging graphics with correct measurements coupled with text written with intent and purpose toward your patients is key. Your posts should inspire your patients to take action! 
Twitter Advertising Services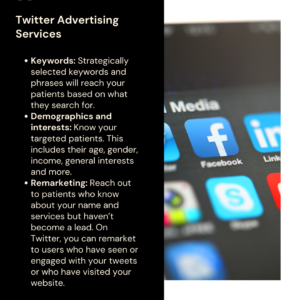 Another social media marketing platform that is useful for generating leads is Twitter.  Twitter advertising is an excellent way to reach your audience, regardless of how narrow — or broad — it may be. But how does targeting work for Twitter? The audience you'll establish on this platform will depend on the following:
Keywords

: Strategically selected keywords and phrases will reach your patients based on what they search for. 

Demographics and interests

: Know your targeted patients. This includes their age, gender, income, general interests and more. 

Remarketing

: Reach out to patients who know about your name and services but haven't become a lead. On Twitter, you can remarket to users who have seen or engaged with your tweets or who have visited your website.
Contact Us To Learn More 
There are other social media platforms such as Linkedin and Youtube that we have yet to go into. Furthermore, talk to us if you want to go in depth of the mentioned platform above. Social media marketing is complicated but powerful and achievable with the help of digital marketing experts. Reach out to our teams today either online, or by calling us at (855) 519-0120. Let's connect today!