Having a team of digital marketing experts working side by side with you is very important in getting your name out there in the drug addiction market. Regardless of how big or small your mental health facility is, finding the right digital marketing firm for your practice even if you have digital marketing "experts" on staff cannot be overlooked. At Reputation Rehab, we will guide you through the top reasons why working with a digital marketing agency in rehab marketing is necessary.  
Internal Resources Are Not Experienced Enough 
A lot of rehab centers that say "We have a person." usually miss the importance of maintaining marketing strategies. Agencies that have a proven track record in the rehab space should be looked at seriously to augment any in-house efforts currently in play. Why? Because agencies with extensive addiction treatment marketing focus can not only bring a wealth of knowledge in the substance abuse vertical they've gained from having worked on dozens of competing sites over the years but oftentimes have individual members on their staff that specialize in particular service lines such as SEO, Social Media, Pay Per Click Marketing, etc. 
Pay-Per-Click (PPC) Marketing In Rehab Marketing Is Tough and Expensive
PPC is very effective in helping prospective patients find your rehab whether they are located locally or nationally. However, PPC ads can be costly if your marketing team is not careful or only has working experience with it. Rehab competitors doing PPC are competitive and they don't like to lose, so when they see a new rehab center come onto the scene, they tend to get more aggressive with their bidding strategies among other tactics to try and push you out. Therefore, it is important that you work with marketing experts to get your first foot in the door. Having years of experience working with multiple rehab centers across the country, Reputation Rehab has what it takes to get you and your mental health facility to the top. 
Social Media Marketing is a Double-Edged Sword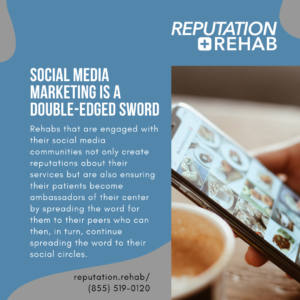 There is no one accurate way to do social media marketing. Rehabs that are engaged with their social media communities not only create reputations about their services but are also ensuring their patients become ambassadors of their center by spreading the word for them to their peers who can then, in turn, continue spreading the word to their social circles. However, staying engaged on social media requires consistency and strategy. Rehab centers cannot just go into social media marketing without having a comprehensive plan of action. If you engage with the wrong people at the wrong time, it could cause you more harm than good!      
Let's Work Together 
There are more reasons that aim towards hiring a rehab marketing agency for your facilities such as email marketing maintenance, CRO skills, SEO skills, and more. Digital marketing in the field of rehab marketing is a complex process that requires a team of experts from different fields to come and work together. At Reputation Rehab, we will take care of everything for you from start to finish! To learn more about our rehab marketing packages, reach out to our teams today either online, or by calling us at (855) 519-0120 now.