Statistics have shown that it only takes a fraction of a second for users to formulate an opinion about a website. Similarly, your rehabilitation's logo weighs the same importance because it subsequently takes users about 2.6 seconds for their eyes to land on your logo, which is considered the most influential part of the site. These statistics are important to consider in your rehab marketing plan because website design plays a big part in navigating your potential patients to your resources and services. First impressions matter! Let our digital experts at Reputation Rehab help you make that striking impression.   
The First Page 
In website designing, It is important to make sure that all of the crucial directing elements are placed across the top of the page and along the left sidebar. Examples of these elements include "About Us", "Resources", or "Services" tabs that provide patients the options to explore your site. Moreover, you should have specific goals for your facility for each landing page on your site. A few examples include "Book an Appointment" and "Talk to a Therapist" so that you can connect with your patients directly. These professionally designed "calls to action" can bring in those who have been looking for a facility just like yours.
Add Extensive Work
Extensive work with (Health Maintenance Organizations) HMOs and PPOs (Preferred Provider Organizations) shows your reputation. In terms of SEO, these extensions not only will increase the relevancy of your website because of good uses of internal and external linking and keyword ranking, but they will also build your reputation as a credible and reliable mental health resource. Here is a list of what we can add to your website design:
Call checking matrix

Conversion tracking

Blog integrating

WordPress and more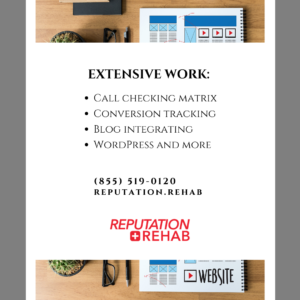 Even better, you don't have to start from scratch! Having extensive experience working with many mental health facilities in building reputation successfully, we have custom-designed templates for you to choose from, rather than giving you cheap and boring designs. Now at this point, you might weigh the option of hiring a freelancer to do this step. However, it is unlikely that they will be able to harness the power of keywords and so much more for your addiction center marketing. So, we believe that you should work with experts like our team at Reputation Rehab! 
Social Sharing Links 
Of course, you should not forget about linking your social media sites to your website so that your patients can view more of your resources and services. Social media has become an essential way for sites to distribute mental health content, particularly information-rich websites like blogs and news organizations regarding addiction and rehabilitation. Interestingly, data shows that the absence of social sharing icons has increased "Add to Cart" button clicks by nearly 12% recently. So, we guarantee that this will not happen when you work with us! 
Let's Design The Web 
At Reputation Rehab, website designing is what we do! We can both build you a new site that fits your facility or improve upon the one you already have to get you those unforgettable first impressions. For more information, please call us at (855) 519-0120 or visit https://reputation.rehab/web-design/.