The processes of designing and maintaining your websites require a group of skilled developers and digital marketers to work together. An effective website design should fulfill its intended function by conveying its particular message whilst simultaneously engaging the visitors. Several factors such as consistency, colors, typography, imagery, simplicity, and functionality all contribute to good website design. Let our experts at Reputation Rehab provide you and your rehabilitation some tips and tricks to make your website better! 
Website Purpose 
Before starting, you must know that your website needs to accommodate the needs of your patients or users. What is the purpose of your drug rehabilitation and how do you translate it to your design? Make sure you state it clearly and concisely on your website so that users are immediately informed. For example, if your rehabilitation is specialized in drug treatment, make sure that it is in the title, landing page, logo, and more.  
Website Design: Color 
Did you know that colors have the power to communicate messages and evoke emotional responses? Finding a color palette that fits your rehabilitation will allow you to influence your patients' behaviors towards your facility. It is important to keep the color selection limited to less than 5 colors because it is scientifically proven that complementary colors influence website visitors' engagement level. Take our palette for example. Our website design team at Reputation Rehab focuses on building a color theme around red, dark blue, white, grey, and black. These colors compliment each other because it is a combination of warm and cool tones. Trust us to provide you with the same color scheme to elevate your website! 
Website Design: Type
Website type or typography also plays a major role in building your online presence. Specifically, it commands attention and works as the visual interpretation of the voice of your facility. Typefaces should be legible and only use a maximum of 3 different fonts on the website. It is crucial that your creative design still has room for your message to come across! 
Website Design: Imagery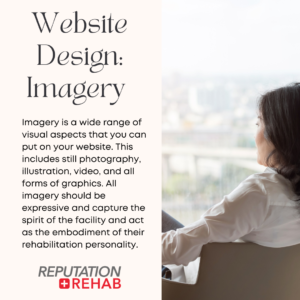 Imagery is a wide range of visual aspects that you can put on your website. This includes still photography, illustration, video and all forms of graphics. All imagery should be expressive and capture the spirit of the facility and act as the embodiment of their rehabilitation personality. More specifically, in the field of mental health marketing, you have to make sure that the imagery and the complimentary messages are accurate and reliable. Presenting and spreading misinformation regarding drug addiction and the mental health disorders in association with it are dangerous. Furthermore, images can be triggering for some patients, therefore, you should proceed with caution. When you work with us, not only do we produce educational resources, but we will make sure that the published content is engaging and informative! You can check out our case studies for more reference. 
Contact Us
Website design is one of many important building blocks in creating a successful online presence. Results driven from successful website design will influence the same build up or hype to other digital marketing strategies such as targeted displays, blog management, and advertising. For more information, please call us at (855) 519-0120 or visit https://reputation.rehab/web-design/.