Making effective advertisements is easier said than done. It is a detailed and complex process that involves intensive planning as well as a reliable team to work on each step. Therefore, it can be tiring for mental health facilities, who are not as experienced as digital marketers. Do you wish that you had a team of experts who were able to take care of all of that for you? That's what our advertising packages provide.
Our Packages and Goals
As experienced professionals, the staff at Reputation Rehab set attainable expectations to help you and your mental health facilities succeed. One of our goals is to always have your facilities' average capacity at 80% per year. This is attainable because we've met it time and time again, and we want to put that to work for you. Please see our case studies for more information and examples of building a successful online presence for mental health facilities. With our advertising packages, you get our entire team, working together, to grow your business and mental health facilities every month. 
Moreover, Reputation Rehab can oversee your entire monthly marketing budget, directing it exactly where it has to go when. This is an important part of advertising because it keeps all of the marketing processes on track while making sure that delays can be avoided. Each of our packages contains a variety of services for mental health facilities of all sizes. We can devise a package for anything you and your clients need. Our advertising packages can put your entire focus back where it belongs: on your facility.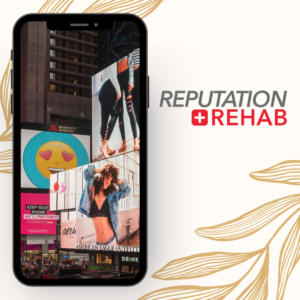 Mental Health Marketing
Mental health facilities need to have their own marketing. What's best for a detox or a rehab isn't the same as what's best for a facility that focuses on mental health. Each facility has a unique set of marketing and advertising goals. Therefore, we connect you and your facility to the most suitable customers who need your resources the most. This is why rehabilitation centers should also focus on mental health marketing as an important part of advertising.   
Similarly, mental health marketing is also a lengthy process. Creating and boosting content on social media is different from doing so outside of social sites. So, it is important that mental health marketing is done accurately! Through display advertising, SEO, Paid Search, web design, and so much more, Reputation Rehab can put together everything you need to put your facility in the best position to help your current and future patients. 
Contact Reputation Rehab 
If you are interested in learning more about our advertising packages and what we have to offer, please contact us to learn more. Call us today at (855) 519-0120 or visit  https://reputation.rehab/advertising/ for more information. Reputation Rehab has all the answers you need!