For the longest time, word-of-mouth and referrals are the most common ways for both patients and healthcare workers to advertise their services. However, as the world adapts to be more modern, technology and digital marketing are growing to be effective advertising tools for mental health facilities and drug addiction treatment centers. Although still considered relatively new, digital advertisements have emerged rapidly to be an important factor in the marketing mix. Digital advertising campaigns can be tricky for mental health practices to master because of the ever-changing competitiveness of the market. Therefore, let our team at Reputation Rehab help! 
Market Your Expertise 
Developing and publishing content online is a great way to start getting your name out there. One of our tips from you is to write about topics related to your target market, such as signs for parents to watch for when their son struggles with addiction or how to recognize problems with alcohol abuse. Furthermore, you can include a section that explains your facility's credentials, provide your contact information and website address so that your prospective patients can obtain more information about the types of mental health services you provide. By doing those, not only that you will get one foot out of the door, but people will learn valuable tips to manage their sobriety. Digital advertising is a two-way street for both advertisers and the target audience! 
Social Media 
We cannot talk about digital marketing and advertising without mentioning social media. Social platforms are the best way to gain exposure and establish credibility because it is quick and easy. Take advantage of it and explain the types of rehabilitation services you provide, ask your current and prospective patients about what they want to see in the future, etc. Use social media to communicate with your patients to build a strong relationship so that engagement is high. In addition, implement Google Ads and other types of advertisements to further reach the deep of your audience! Advertising is a complicated process that requires experts from both fields of digital marketing and mental health, so, let's work together!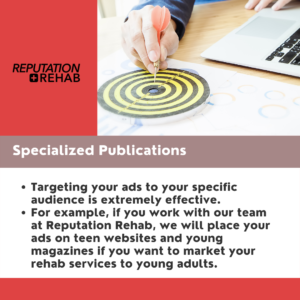 Specialized Publications 
Do not underestimate the power of local publications, especially for small start-up facilities! Targeting your ads to your specific audience is extremely effective. For example, if you work with our team at Reputation Rehab, we will place your ads on teen websites and young magazines if you want to market your rehab services to young adults. Of course, there is way more to it than said above! Talk to us more to find out. 
Let's Work Together 
We need you and you need us to master the art of digital advertising for your drug rehabilitation. As mentioned above, digital marketing in rehab marketing is still relatively new, therefore, there are a lot of factors to maneuver! At Reputation Rehab, we believe that it is best to work as a team. For more information, please feel free to visit https://reputation.rehab/ or dial (855) 519-0120 and we would be happy to assist you as soon as possible!