Approaching rehab marketing is not the same as, say, retail marketing. There are many factors and elements that need more attention and accuracy because wrong content development in rehab marketing could cause serious consequences. Furthermore, the rehab industry faces some unique marketing challenges that other industries don't really face. Therefore, in order to effectively market an addiction treatment center, you must invest in many marketing strategies, pay close attention to what is working best, and identify the difficulties that prevent your success. We'll list a few for you! 
Stigma and Embarrassment 
Mental health is one of the areas that is heavily stigmatized in our society, even though it is a disease, not a choice. Although mental health patients often downplay their problems to others, they are often aware they need some kind of treatment but are reluctant to commit to the public scrutiny that comes with a treatment program because of embarrassment and the fear of judgment from others. Therefore, it is your responsibility as a mental health facility to educate patients and the general public as a whole that substance abuse or addiction is not a choice. 
When you choose to work with us, our rehab marketing team of experts will utilize a diverse set of marketing tools to achieve your goals. We are flexible in working around any set budget and customized features unique to your mental health facility. For more references, please check out our case studies. 
Trust 
When looking for addiction treatment for a family member or a loved one, a base level of trust must be established. Think of it this way. If you are a parent looking for treatment for your beloved child, you would look up and call multiple facilities, doing all the research, reading through pages of reviews, asking friends and family about similar experiences, and more. There must be an established sense of reliability and professionalism in your facility's online marketing presence. In comparison to other industries, trust is also important but not as essential. As a result, our rehab marketing team will do our best to translate your quality resources and services to your patients, which is something we have been doing from the ground up!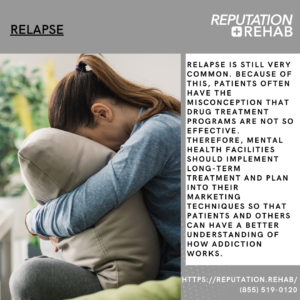 Relapse 
Relapse is extremely common for recovering drug addicts. In fact more than half of people who go through treatment relapse in the first year. In addition, people who stay sober 1 year have a much lower chance of relapse, but it is still very common. Because of this, patients often have the misconception that drug treatment programs are not so effective. Therefore, mental health facilities should implement long-term treatment and plan into their marketing techniques so that patients and others can have a better understanding of how addiction works. Not only does your facility benefit from consistent treatment, but your patients are also educated on staying healthy and sober. Trust our rehab marketing team to help you with that! 
Contact Us 
Rehab marketing is difficult and complicated but not impossible. With years of experience and knowledge, we can guarantee results and a better future for your patients. To help you get started, we do offer free consultation for you and your mental health team to learn more about our strategies and services. Please reach out to our teams today either online, or by calling us at (855) 519-0120.