First, let's define domain authority. Domain authority is "a non-arbitrary metric assigned by Google that (more or less) measures Google's faith in you. You can improve your authority with links". In simpler terms, it means that the more other sites link your website domain, the more likely Google will notice you. As a result, the higher you will rank on their search results pages because other sites are mentioning and referring you to their viewers, so your rehab SEO increases. At this point, you may wonder: What are the factors that Google takes into consideration when determining your domain authority? 
Who is Linking You? 
Who is mentioning you on their site? Are they a rehab listing site? Are they reputable? This is important because external links allow you to create a website hierarchy, drive traffic through your entire website and encourage visitors and patients to spend more time on your site. Top digital marketing agencies like ours believe that external links are the most powerful ranking tool because they are difficult to control. If done right, Google will be alerted of your popularity and hence push your rehab SEO to the top! This will happen when you work with our team of experts. At Reputation Rehab, we have worked with a good number of rehabs and drug treatment facilities, therefore, we are well-prepared to put your facility on top! 
How Frequently Do Other Websites Mention You? 
Yes you guessed it! The more frequent other sites link and mention you, the better your rehab SEO will turn out. Below is a list of factors that Google will assess the sites that link yours: 
The

trustworthiness

of the linking domain.

The

popularity

of the linking page.

The relevancy of the

content

between the source page and the target page.

The

anchor text

used in the link.

The number of links to the same page on the source page.

The number of

root domains that link

to the target page.

The number of variations that are used as anchor text to links to the target page.

The ownership relationship between the source and target domains.
If you are interested in learning more about how Google ranks your domain authority via assessing others, please contact us and we would be happy to assist you.
How Many Diverse Citations You Have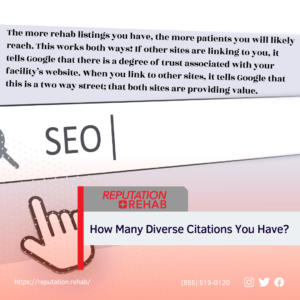 Typically, when an SEO refers to citations, they are talking about a group of individual business listings on various sites. The more rehab listings you have, the more patients you will likely reach. This works both ways! If other sites are linking to you, it tells Google that there is a degree of trust associated with your facility's website. When you link to other sites, it tells Google that this is a two-way street; that both sites are providing value.
Contact Us 
At Reputation Rehab, we believe that domain authority is not talked enough out in establishing an online presence in rehab marketing. It is truly effective in improving your ranking and rehab SEO when done correctly. To learn more about other rehab marketing techniques, reach out to our teams today either online, or by calling us at (855) 519-0120 now.