You will be surprised at how effective consulting can bring to your mental health facilities and rehabilitation! At Reputation Rehab, we're proud to have many long-standing relationships with addiction treatment center professionals. In addition, we can connect you with both treatment consulting experts and digital marketing professionals so that we can work together to best meet your needs. At this point, you may wonder: What are the types of consulting services that we specialize in? Well, let's dive in! 
Staffing Consulting
Staffing consulting essentially helps employers, in this case, rehab facilities, find the right employees. Our consultants at Reputation Rehab will take into consideration your desired type of talent, budget, positions, and other factors related to your staffing needs. For example, if you are looking for therapists who are specialized in drug rehabilitation, we will get into the specificities of what types of drugs, drug treatment, age of victims, etc. to find you the best match! Of course, you can choose to be as involved with the consulting services as you like, Reputation Rehab will make sure that you are well aware from start to finish!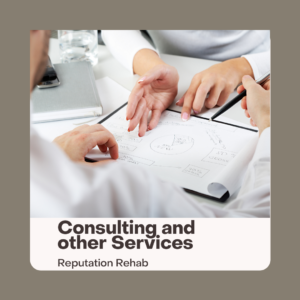 Licensing Consulting 
Next, licensing consulting refers to communicating with agents who are experts in licensing technicalities such as contract negotiations or the service approval processes. These are important steps to take because you would want the legalities of your business and service to be clear and concise so that misunderstandings decrease. For example, if you and your drug facility are choosing between creating a licensing team within your business or using external services for licensing, we can weigh the options and sort that out for you! Let us help you. 
Program Consulting 
Lastly, program consultants are individuals who are involved in the planning, coordinating and evaluating strategies by advising others in the facility. Our consultants could give your facility what it needs to stand out from the rest, offering the best, most cutting-edge treatments. We don't just see your service in the present, we also plan out how you would be in the future and the steps necessary for you to reach your prospective goals. 
For example, if you and your facility aim to expand your service to other states, we can help you in terms of choosing the best location, putting out the best advertising plan, hiring the best people, etc. You can have a look at our past partnerships on our website for more information. 
Start the Conversation Now! 
Our consultants are usually either part of our in-house team or independent contractors. They work case-by-case, based on their availability and willingness. We can use our connections and consulting services to help every aspect of your rehab. Please contact us by dialing (855) 519-0120 or visiting https://reputation.rehab/ and our marketing and consulting experts will be happy to assist you!