Does your rehab center lack an effective marketing strategy? Are there questions you have about how to market more effectively and you want to ask them to an expert? These are the questions that our marketing consulting team can give the answers to! Danny Star and our team here at Reputation Rehab have helped so many different detox and rehab centers with their marketing. We live a hectic, on-the-go life and receive information from mediums that are immediate, targeted, and timely. Your rehab marketing should be in the places where people receive their most reliable and trustworthy information. Trust our marketing consulting team to guide you and your facility to the top! 
Insights to Your Facility and the Market 
It is no doubt that the digital rehab market is getting competitive and ever-changing. Therefore, it is crucial for you to have a marketing consultant team to keep you updated and stay on top of your competitors. Having a comprehensive understanding of what your patients want and expect from your drug rehab services is crucial for developing further steps such as devising strategies and tactics that provide a measurable return that grows your facility or mental health practice. Furthermore, our marketing consulting team at Reputation Rehab can provide you with the necessary tools and resources from our extensive experience in helping so many detox and rehab centers with their marketing.   
Specific and Big Picture Objectives Advice 
Not only do we put your patients and their health first, but we also prioritize your mini and long-term goals on top! Being proactive and devising strategies and tactics that provide a measurable return on our teamwork, so the goals of the business are reached on time is what we have been implementing for our clients. Please see our case studies for more reference. This has proven to be greatly beneficial for those facilities that already have a team or work with a team they love. It's also been a perfect arrangement for those centers that could just use some direction or have some questions to ask.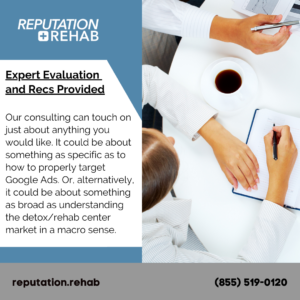 Expert Evaluation and Recommendations Provided 
We are flexible in planning within all ranges of budget. It matters not how big or small or how new or old your facility is, our variety of marketing packages fit all your needs! And of course, we give you the option to be as involved as you want! You can either totally rely on us from start to finish or work with us at every step of the way. We are flexible and experienced like that! In addition, our consulting can touch on just about anything you would like. It could be about something as specific as to how to properly target Google Ads. Or, alternatively, it could be about something as broad as understanding the detox/rehab center market in a macro sense. 
Consult With Us!
As mentioned above, Danny and our experts have consulted with some of the biggest names in the industry as well as those facilities just starting out and every kind in between. So, let our name be next! To schedule your consultation, you can reach us at (855) 519-0120 or visit https://reputation.rehab/marketing-consulting/ for more information.