If you manage a facility in the rehabilitation industry, your aim is to help as many people as you can. It is a noble task to run a residence or treatment program that serves people who need help battling their addictions. As drug abuse and alcoholism continue to loom as dark specters over society at large, the need for effective rehab and treatment facilities is ever-present. Of course, as there is a considerable market for these services, the rehab industry can seem crowded and oversaturated at times. It is up to you to find a way to make your facility stand out from others so that you can attract patients and ultimately provide much-needed help. You may be wondering, however, how can you effectively market your business with search engine optimization (SEO) tactics. Let's face it: your day is probably pretty crowded with group work and other treatment activities, leaving very little time for drawing up a digital marketing strategy. Luckily, by working with an online marketing agency, you can improve the drug rehab SEO on your website.
At Reputation Rehab, we work exclusively with clients in the drug addiction and alcohol treatment industry. We understand how to effectively market your facility by highlighting your offerings and strengthening your drug rehab SEO. Before you start thinking about what sort of digital marketing package is right for your facility, you may want to gain a grasp of search engine optimization as a concept and strategy. At a core level, SEO means optimizing your website for Google and other major search engines. By using strategically placed keywords and other techniques, you can make your website more crawlable so that it will rank more highly on search engine results pages (SERPs). In truth, the data shows that people are more likely to click on the first few websites they see in a search, and with a prominent SERP position, you can greatly increase your chances of making a conversion with a prospective patient. Read on to learn about some SEO tactics we employ at Reputation Rehab.
Optimizing Your Website for Mobile
When you go to look up a product or service, how often are you firing up a desktop computer to do so? The answer, if you are like most people, is probably almost never. The reality is that 90 percent of all internet users are logging on with phones or mobile devices. With this in mind, if your website is not optimized for mobile, you could be losing out on potential patients. At Reputation Rehab, we understand how to optimize your website for users with mobile phones or tablet devices. This is done by avoiding long chunks of text (nothing longer than six lines, typically), and keeping your load times reasonable. You can do this by not embedding too many videos or large image files. 
Boosting Your Drug Rehab SEO with Strong Content
In the digital marketing arena, in 2022 and beyond, content is king. It may seem obvious, but the best way to separate your website from the competition is to have strong, engaging content. Long gone are the days of having just a basic five to seven-page website that only serves to provide pertinent contact details. In order to improve your SERP rankings, you need to have well-written content that provides real value to users. One way in which you can effectively use keywords and attract readers is to create interesting blogs. By routinely updating your articles page, you can provide relevant information to users while also showing you to be an expert. 
Trustworthy blog content can also attract backlinks from other sites. Backlinking has been an SEO mainstay for quite some time, and it is still a useful strategy. If you are outsourcing your content writing, make sure that the authors you are working with have a solid understanding of the subject material.
Video, Podcasts, and More
The demand for audio and video content in the digital marketing community continues to surge. In the past few years, especially, podcast demand has exploded. You may want to consider composing short videos as well as audio content in order to reach your patients. By setting up a YouTube channel or composing podcasts, you can potentially reach a larger audience within the addiction and treatment communities.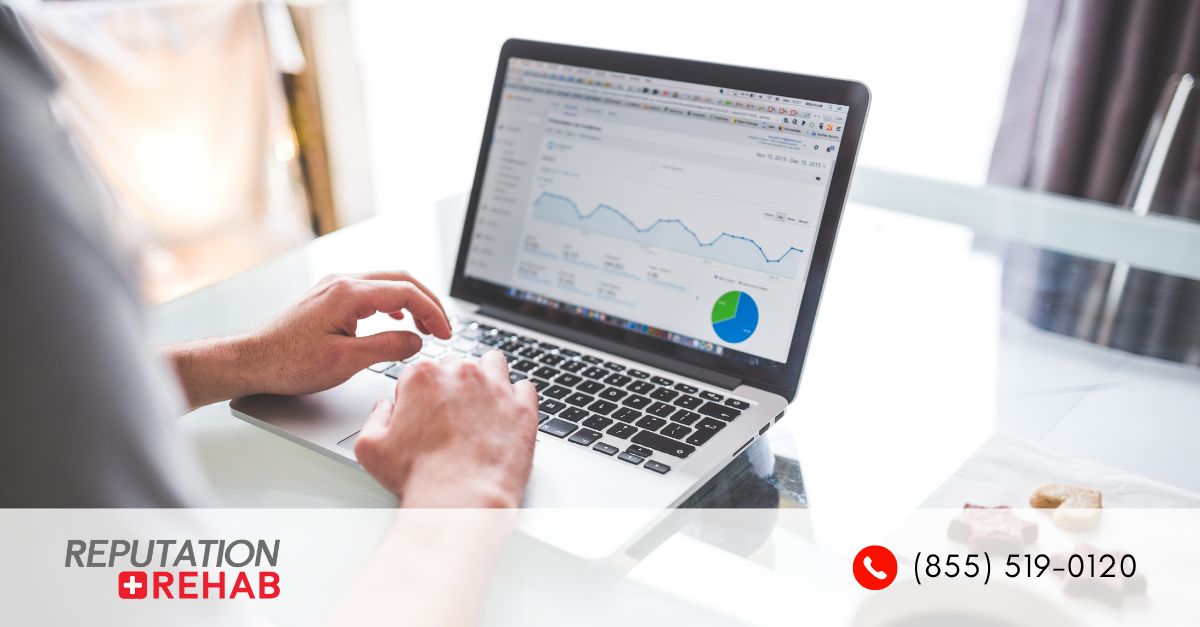 Schedule Your Consultation Today
If you are looking to upgrade your marketing approach, the experts at Reputation Rehab can help. We work exclusively with clients in the addiction space, so we understand the needs and demands of the industry. We will take the time to learn the goals and aims of your facility, before ultimately settling on a custom strategy that is aligned with your needs. To learn more about how we can help you, contact us today by phone and schedule your initial consultation.