Do not underestimate the power of drug rehab directories in generating addiction leads for your facility. Online drug rehab directories are not a digital version of the yellow pages, where you have to flip endless pages. They are comprehensive platforms that enable potential clients to identify, learn about, and contact your addiction treatment facility for help. The following are the reasons why you should list your rehab center in drug rehab directories. 
To Increase Traffic
By listing your facility in a drug rehab directory, you're increasing your chances of driving referral traffic to your website. Once you submit to one rehab directory, you'll usually find that your information gets transferred to other directories as well. However, it is important to double-check your listing information and updates because the chance of small directories transferring inaccurate information could bring unwanted traffic and results to you. At Reputation Rehab, we could help you from start to finish! Having the experience to work with abundant rehab facilities, our rehab marketing teams are well-prepared to get your facility on top! 
To Strengthen Your Reputation 
To avoid scams and treating your patients poorly, you can rely on online drug rehab directories because they are seen as reliable sources of trustworthy facilities that have been vetted. However, you have to put effort into making your online rehab profile or presence look professional and put together. Make sure to follow these specific actions: 
Update changes to your business information like phone numbers and address changes.

Maintain consistent information across different directories

Pay attention to apostrophes, abbreviations, and how you write your business name

Create separate listings for multiple locations

Use local telephone numbers

Monitor and update listings
To Improve Your Brand Awareness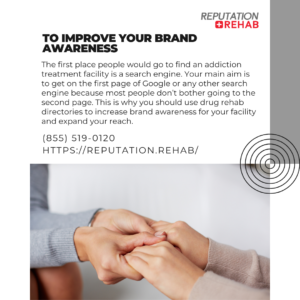 The first place people would go to find an addiction treatment facility is a search engine. Your main aim is to get on the first page of Google or any other search engine because most people don't bother going to the second page. This is why you should use drug rehab directories to increase brand awareness for your facility and expand your reach. When a potential client performs a search in a drug rehab directory, it will display a list of facilities, each with a brief snapshot so that they can decide which one to click on to learn more.
From our knowledge and experience, exposure will likely lead to engagement and addiction leads with the right resources and methods of following up. Therefore, trust us to help you achieve your goals. The great thing about collaborating with us is that you can choose how involved you want to be in and we would be more than happy to assist you and your requests. 
Let's Work Together 
Of course, listing your rehab centers on official drug rehab directories is just one of the many digital marketing ways to get your name out there. It is the combination of other important factors such as social media marketing, website development, and design, podcasting, and more to get the best results. But worry not, we can take care of that for you! For more information, feel free ot reach out to our teams today either online, or by calling us at (855) 519-0120 now.