When your clients or their loved ones begin searching for a rehab center, they will most likely go to Google to start their hunt. Google is the main traffic driver to websites. SEO (also known as Search Engine Optimization) is how we can organically increase traffic to your site. Ultimately, the better your SEO, the higher you will rank on Google. And the higher you rank on Google, the more likely your clients will be able to find you and trust you right off the bat.
Trust Our Search Engine Optimization Experts
At Reputation Rehab, we understand that there may be several addiction recovery centers in your area but our job is to make yours stand out and rank highest on Google (and other popular search engines). You rarely hear people clicking to the 5th page of Google on their search for something, usually, they won't even bother to go to the second.
With the right SEO, we can help you increase your site traffic, increase requests for more information, increase the call volume, and rank your site towards the top of the search engine being used.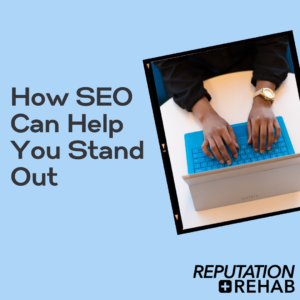 What does it look like when SEO is done right (besides everything listed above)?
Blogs with specific key phrases

Premium hand-built backlinks

Map optimization

Page speed

Google Ads spend

Newsletters.

Photo and video editing

Website maintenance

Facebook and Instagram Ad campaigns

Digital content creation

And more!
Another way that Google and Yelp help on the SEO front is with their business accounts. By setting your facility up with Yelp or Google My Business, you are automatically increasing your rankings and also showing glowing reviews front and center. Get a free consultation with Reputation Rehab and don't waste another minute being ranked lower on Google than you deserve. Call now: (855) 519-0120.