Content development is the core of rehab marketing. Everything can be content, therefore, it is important that you selectively produce high-quality content that educates, empowers, informs, and inspires your patients. At this point you may wonder: How to get started on developing high-quality content?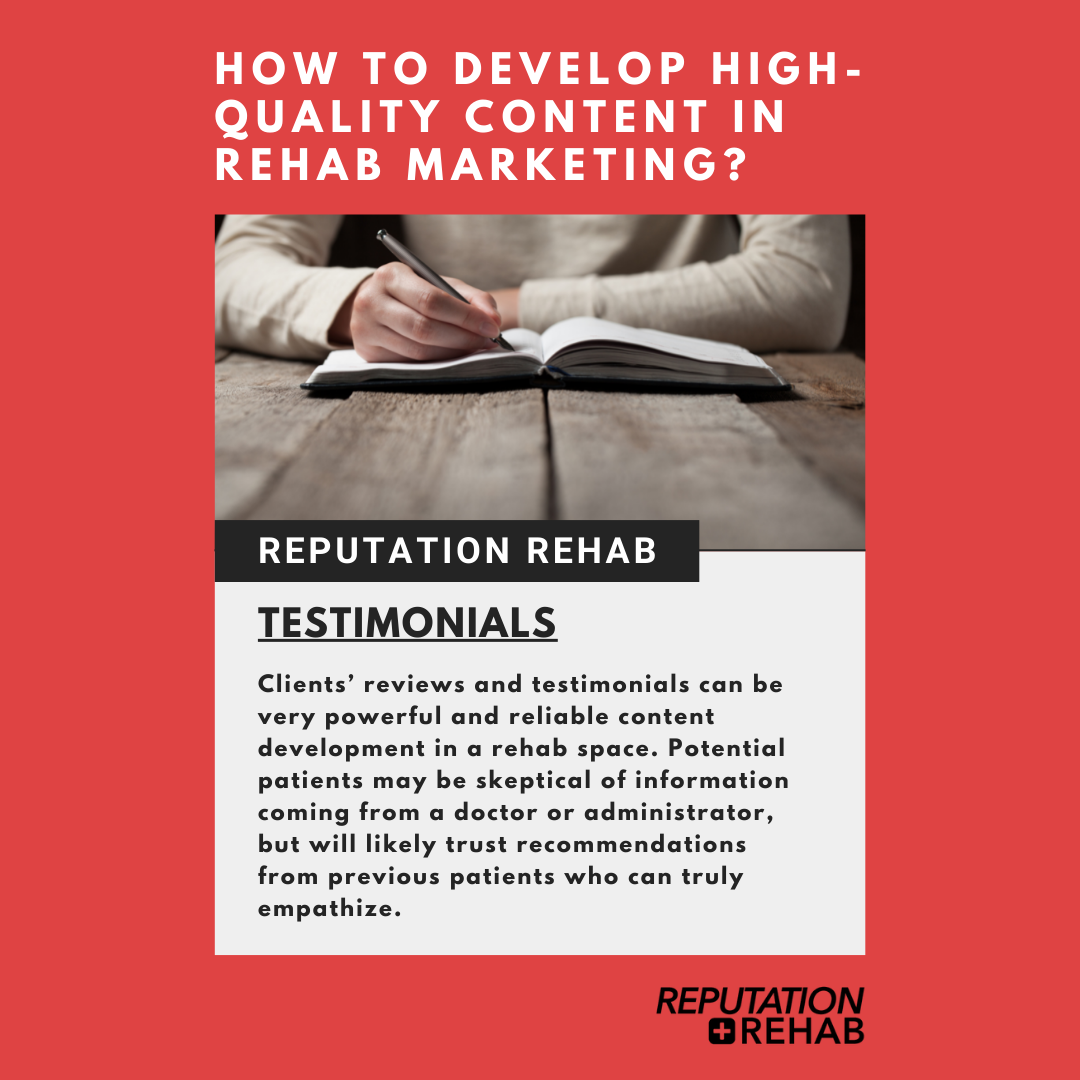 Blogging is a great way to generate new content on a continuous basis. By doing this, your patients will likely stay informed and updated with your latest service and mental health news, which is important in staying safe and healthy. However, blogging within the rehab industry can be difficult. Addiction treatment is a serious topic that affects many people on a profound level. You can't just blog about anything, and you don't want any of your posts to come across as flippant, insensitive, or expressly commercial in nature. So, what should you and your rehab center blog about? Here are a few suggestions:
The industry news

: The rehab industry is changing more than ever, as a result of the covid pandemic. Therefore, you should blog about any change that occurs so that your patients can stay healthy and safe in these unprecedented times.

This could be anything from a shift in rehab care best practices, to announcements about new treatment drugs, to case studies on addiction or rehabilitation.

Daily routine

: You will be surprised at how many people do not have a concrete idea of what rehab is. Many people hear "rehab," but don't actually know what going to a rehab center for treatment entails. So, you can blog about your patients' experience and educate others!  

Center-specific information

: Highlight what your rehab center does differently (and better) than the rest. 
Testimonials 
Clients' reviews and testimonials can be very powerful and reliable content development in a rehab space. Potential patients may be skeptical of information coming from a doctor or administrator, but will likely trust recommendations from previous patients who can truly empathize. Some rehab centers create dedicated "patient review" and testimonial pages. Others embed reviews from Google, Facebook Business, and other review sites using a widget, a plugin, or custom code. Either way, reviews, testimonials, and patient stories can give site visitors a great idea of your reputation as a rehab center. In addition, video testimonials can be especially moving, as can longer-form patient stories and case studies. Therefore, trust our content development team at Reputation Rehab to give your clients a voice! 
Contact For More 
Of course, there are more ways to develop your content to the best it can be. Addiction blog management and testimonials are just two of the most effective ways to build your online reputation. To learn more about all of our services, please call us at (855) 519-0120 or visit https://reputation.rehab/.