The detox and rehab industry is getting competitive as the day goes by. If you are not properly represented with technical marketing techniques such as easy navigation, positive reviews, great pictures, videos, and more, someone in your area is. You have the facilities, you have the training, the staff, and more – so, you should have the patients who can benefit from all of it. At Reputation Rehab, we have the right tools that can correspond to the addiction leads needs of your facilities.
Define Your Audience 
When creating an audience for your Lead Ad, consider the types of patients you often see walking through your doors. Who is your target audience? Who is your mental health service aimed at? Having a specific and concrete idea of who you are marketing for is a good start to strategizing a comprehensive marketing plan. Potential patients aren't the only audience to consider when building your addiction leads ads; it's also important to think about family members of those patients. When creating ads, we suggest separating ad sets to target either potential patients or their family members. 
Strategize Your Placements 
What kinds of platforms does your target audience use the most? Facebook or Instagram? Mobile or desktop? Iphone or Android? This is important information to consider when deciding where to place your ads because it affects traffic and leads generation. The more leads you have, the higher the likelihood you'll have more people in your facility. The more people you have in your facility, the more people you can help, and the more money you can make. 
In addition, the timing of your addiction leads ads placement also plays a big role in generating leads. After years of successfully tracking ads in the addiction treatment industry, our team at Reputation Rehab noticed that many leads come in during the evening and even throughout the night. That's why it's so important to have addiction leads running continuously around the clock, instead of on a schedule during the daylight hours.
Refine Your Ads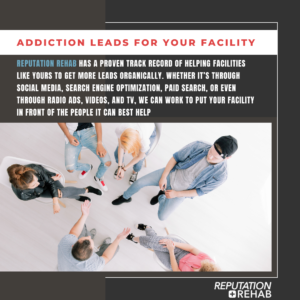 Not only that your addiction ads contain high-quality and resourceful information, but the design must also be eye-catching, persuading them to fill out a form with their personal information. The two most important aspects of an eye-catching addiction lead ad are the headline and the photo, which should clearly explain why users should fill out the form. A clear understanding of what you're advertising makes it more likely for a user to press submit. To maximize leads, we suggest keeping the form short and succinct by asking solely for the user's name, phone number, email address, and/or city. 
Reputation Rehab has a proven track record of helping facilities like yours to get more leads organically. Whether it's through social media, search engine optimization, paid search, or even through radio ads, videos, and TV, we can work to put your facility in front of the people it can best help. Then, we can ensure that once they click on your facility, they'll find a professional, welcoming site. Easy navigation, positive reviews, great pictures, videos, and more: a facility's website often makes the first impression (so, you want it to be a good one).
Contact Us For More 
It does not matter which way you choose to generate addiction leads. And worry not if you don't know how to start! This is our job at Reputation Rehab to master the digital technicalities of rehab marketing for you! To learn more about all of our services, please call us at (855) 519-0120 or visit https://reputation.rehab/.