When you open a clinic for mental health patients, one of the most important things that you will have to do is to ensure that there is sufficient promotion of your services to keep customers coming through the door. There are several ways that you can keep your business in mind when people are seeking mental health services, but it is essential that you are able to have effective and carefully targeted SEO for mental health professionals on your website. With the help of Reputation Rehab, you can make sure that your health services are promoted and are likely to reach the audience that you intend.
Search engine optimization
The key to any website that wants to bring customers to its door is searching optimization. This consists of using a variety of different digital tools to put your website to the top of search engine rankings, so that you appear when clients search for mental health professionals in your region. There are a lot of tools that you can use to promote yourself using SEO, including social media and article writing, but it is important that you only use optimization that will be of interest to people looking for your services. If you do not target future clients, then you may not get the traffic that you want, and customers may be deterred by the optimization you use. This is why it is so important to seek the help of professionals to make sure that you get your targeting right before you launch your website onto the wide world web.
Promoting yourself online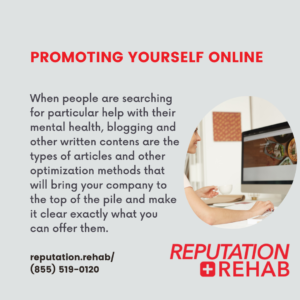 Many mental health professionals are not experienced in the importance of promoting yourself online through a variety of different methods. For example, you may use videos to promote your services, perhaps talking about mental health concerns or treatments for particular types of mental health, which can then be put onto social media platforms as well as your website. You might write a blog which focuses upon mental health, or which talks about your experiences as a professional in mental health services. When people are searching for particular help with their mental health, these are the types of articles and other optimization methods that will bring your company to the top of the pile and make it clear exactly what you can offer them.
Get help with your mental health SEO
Because you are a mental health professional and not an SEO expert, we know that it will be necessary for you to reach out to a company specializing in SEO for mental health professionals, with a particular focus upon the use of social media to promote yourself. Reputation Rehab can help you to reach out to customers who need assistance, and you can make sure that everyone knows you offer quality mental health services in your area. To find out more about what we do, you can send us a message online or contact us at (855) 519-0120 now.