Anticipatory anxiety is more common than you know. When there is no clear view of the future and the unknown continues to loom over, one will get anxious and exhausted from feeling uncertain. This can be found in those looking for the COVID-19 vaccines. It is difficult seeing more people around you having access to the vaccine while your appointment is still "pending". Some might find themselves falling back to old habits and addiction to cope with the anxiety. When that happens, please visit our addiction blogs. 
Waiting Anxiety is Associated with Various Panic Disorders 
Researchers have found that panic disorders are associated with anticipatory anxiety. In other words, if you have a panic disorder, you may find yourself anticipating many life events. Going into a store, attending a social gathering, and other activities may be a daily focus of your anticipation. In general, waiting anxiety can be summed up to be surrounded by any activity that involves leaving the safety and comfort of your home. Specifically, anticipatory and waiting anxiety are more relevant as vaccines are rolling out and our world is transitioning back to normal. But worry not! Help is around! 
The Right Information Brings the Right Reassurance 
The rising popularity of the internet also brings up the increase of misinformation and the surge of panic that proceeds. The lack of fact-checking tools and the growing accessibility of information that technology has brought up more harm than good in cases like the COVID-19 pandemic. In times like this, some may wonder: Where to start? Let's look at our addiction blogs. 
At Reputation Rehab, we aim at crafting informative, engaging, inspirational, and educational blogs that can acquire patients all on their own. Not only that, but our blog experts will also focus on optimizing the blogs and boosting your SEO to make sure that the right information is on top. From years of experience, we have extensive knowledge that Google prefers both the quality and quantity of the blog content when it comes to their rankings. Therefore, we will make sure that the published blogs are consistent and up to standards!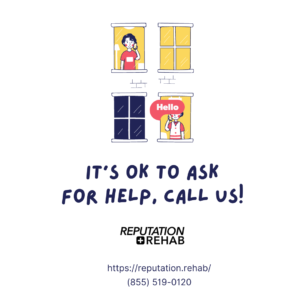 Why is this important? As mentioned above, a large number of people may suffer from waiting anxiety because their futures are not promised. They are at high risk of experiencing extreme anxiety that could potentially lead them to abuse drugs and getting addicted to the wrong substance. It is a dangerous path to go down and difficult to come back up. We are here to help! You don't have to do this alone. Our team at Reputation Rehab will keep you company and wait here with you.    
Contact Us 
Please feel free to reach out to our blog experts at Reputation Rehab to learn more about useful tips for addiction blog management. We also have other resources that are highly recommended for the digital marketing process of your rehabilitation. Call us now at (855) 519-0120 or please visit https://reputation.rehab/addiction-blog-management/ and we will happily assist you.