According to statistics, depression is the most common mental health disorder worldwide with approximately 264 million people suffering from it. People with depression report and are observed to have multiple physical complaints with no apparent physical cause. In some cases, depression could lead to serious consequences such as addiction and death. Prevention programs and rehabilitation centers should not overlook the dangerous effects of depression. It starts with understanding and crafting the right content: Addiction Blog Management.
What are the Dos and Donts of Blogs Content for Depression and Addiction 
Blog management is powerful for many drug rehabilitations to establish their reputation while helping those who want to or are recovering from addiction and depression. Not only do blogs shape the patients' first impressions, but they also enhance the facilities' credibility and quality of resources if the right content is written. However, not all blogs will give you the same results. Therefore, it is important to learn about the dos and don'ts of addiction blog management.    
The Dos: 
Use Strong Headlines

: A large number of readers decide whether a blog is worth reading or not during the first 5 seconds of reading the blogs' titles and headlines. In a way, headlines are windows to the inside of your facilities. So, mental health bloggers should aim to make their deadlines as engaging, short, concise, and straight-to-the-point as possible. This is relevant for blogs discussing mental health matters because there should be no misunderstandings. 

Use keywords strategically

: The higher the ranking of your chosen keywords, the more likely your blogs will appear on top when potential patients search for addiction content like yours. Repetition is what should be emphasized in this step. Incorporating your chosen keyword multiple times in your paragraphs in a way that flows is the goal! 

Share on social media

: A good starting step to get recognition for your blogs is by sharing them on social media platforms. Many social sites are designed for users to share the content on them in the most immediate and effective ways. As a result, social media can help with blog engagement and so attract the right audience for your facilities. 
The Donts: 
Inconsistent posting

: Having a regular and consistent schedule for publishing blogs is a must for keeping readers engaged from start to finish. So, mental health bloggers should look at their calendars and set a fixed date for blog publishing now! 

Poor readability

: We cannot stress how important proofreading is. The moment you think that everything is well-checked, someone will find an error. So ensure that

your blogs are proof-read by you and others, optimized for both desktop and mobile viewing to reach out to everyone in your target audience.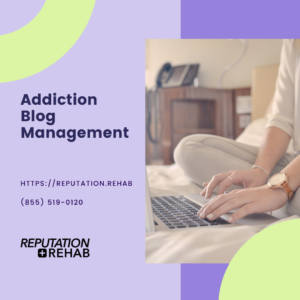 Contact Us For More
Of course, these are not all the tips and tricks for the best addiction blog management. With time and effort, blogging will be one of the biggest game-changers for your company, at a fraction of the cost of other techniques. And you don't have to do it all alone! Our digital marketing experts here at Reputation Rehab are here to help you at every step of the way. For more, please call us at (855) 519-0120 or visit https://reputation.rehab/addiction-blog-management/.