No one has the right definition for marketing because it is a largely broad concept that is ever-changing by days. Therefore, understanding the market changes and shifts is crucial for staying competitive and on top of the search pages. In addition, that can also help in comprehending an effective mental health marketing plan. At Reputation Rehab, we will go through the two tips that are important in every marketing plan. 
Start The Conversation
First and foremost – be a part of the conversations taking place in your community and beyond. This could mean limiting the use of traditional advertising or, at the very least, working to integrate advertising into an overall grassroots marketing approach where you become an integral part of a community. Experts claim that people take notice when they hear someone's viewpoint versus seeing an advertisement about their services, therefore, word-of-mouth advertisement cannot be overlooked. 
In the mental health market, starting the discussion around mental health and addiction treatment is important to stigmatize the topics and educate people. Dedicate the time to educating and marketing, and be genuine in your efforts. Use approaches that add value to people. At Reputation Rehab, our team of rehab marketing experts can help you with that! Whether you want to be fully involved from start to finish or not at all, we got you covered with our flexible working schedule and specialized plans. 
Avoid Operating Under a Scarcity Model 
The two most common scarcity models that mental health practices and facilities tend to make are: 
Opening up a practice, placing an ad in the yellow pages, mailing brochures, and waiting for the phone to ring. 

Posting your resume online, responding to posted job announcements and waiting for the phone to ring. 
Although those are necessary in some cases, they are not enough in generating leads and your marketing further. At Reputation Rehab, we believe that the three important success tips are:
Your consistency and work ethic with the same effort. 

Your ability to offer the rehab services and resources that people value, believe in and talk about. 

Your ability to build strategic partnerships that add to your credibility, build trust and give you an entry point for patients to know you.  
Mental Health Marketing at Reputation Rehab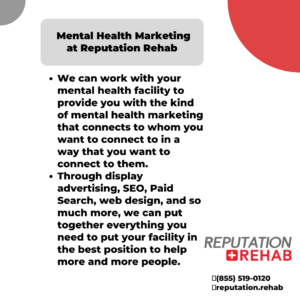 We can work with your mental health facility to provide you with the kind of mental health marketing that connects to who you want to connect to in a way that you want to connect to them. Unfortunately, in our modern world, there are people who need assistance with their mental health yet aren't able to connect to someone who could do so. There are people out there right now struggling with their mental health. They're looking for a facility like yours. With our help, you can reach them and then empower them. Through display advertising, SEO, Paid Search, web design, and so much more, we can put together everything you need to put your facility in the best position to help more and more people. You work so hard at your facility to do right by others. To learn more, please call us at (855) 519-0120 or visit https://reputation.rehab/.