SEO, which means the process of improving the quality and quantity of online traffic to your facility website, is no doubt one of the important factors in generating leads for your rehabilitation. There are many ways to increase your site's ranking to the top of search engine results, therefore, you must know the ones that are the most effective and ones that are not for your site specifically. At Reputation Rehab, we will guide you through the whole process from start to finish when you work with us! 
Make Sure That Your Content Is Relevant 
Quality content should be the first thing that mental health experts, therapists, psychologists, and more prioritize in ranking your site. Not only that your published content and rehabilitation resources should be finely tuned, but keywords should be taken into consideration as well. Identifying and targeting a specific keyword is a whole process. Make sure that each webpage has only one specific keyword. This is because ranking multiple keywords makes it difficult for search engines to know your specific target. Another factor to note is the placement of your keywords. There are three main questions to ask for keyword placement: 
Can I use part or all of the keyword phrases in the URL?

Can I use part or all of the keyword phrases in the page title? 

Can I use part or all of the keyword phrases in page headings and subheadings?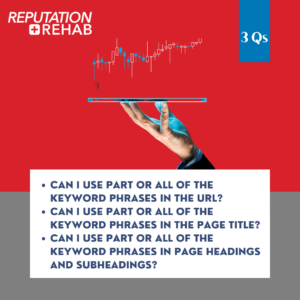 The right answer is YES to all three questions above. However, you have to make sure that the way you insert and place your chosen keywords is natural and smooth. For example, make sure that your chosen keyword "drug rehabilitation center" does not appear more than three times in the URL or have it in the title and every heading. You can be penalized for content duplication, which according to Google Panda Penalty, and that happens when you feature the same text with little to no variation. At Reputation Rehab, we will make sure that that will be the last thing for you to worry about! Having extensive experience in SEO and keyword ranking, our rehab marketing experts can avoid those small mistakes very easily. 
Update Your Content Consistently
When discussing relevancy, our experts believe that having a consistent posting schedule is the best way to elevate your SEO ranking. Regularly updated content increases your facility site's relevance because it keeps your site fresh and new, which helps Google and other search engines to recognize it as a consistently updated site. Therefore, our staff at Reputation Rehab will set a concrete publishing schedule for your blogs, content, social media posts, and all of the sorts to keep your reputation relevant!    
Contact Us 
As mentioned above, there is a long list of ways to increase and improve your rehab SEO. We believe that it is not about doing all on the list but learning about your needs and picking and choosing those that will deliver the best results. With our very extensive list of directories and connections to groups, we can put your facility in front of the people that it can help most. We can handle all of the above on our end. All you have to do is focus on running your facility. Please feel free to call (855) 519-0120 or visit https://reputation.rehab/ and our staff will be happy to assist you.